Apple has released updates for both iOS and macOS Sierra today. These are mainly for bug fixing and security purposes.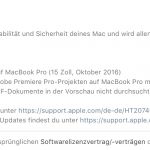 macOS Sierra 10.12.3 brings, in addition to security updates and bug fixes, the following updates that Apple highlights:
Improved automatic graphics switching on Macbook Pro (Late 2016)
Fixes a graphics issue when encoding Adobe Premiere Pro projects on Macbook Pro with Touchbar (Late 2016)
Fixes an issue that prevented scanned PDF documents from being searched in the preview.
The update is on a Macbook Pro with touchbar (Late 2016) a little over one gigabyte in size and is installed in about 20 minutes.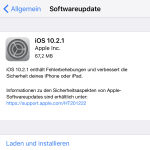 iOS 10.2.1 does not yet have a detailed changelog, again Apple only gives "bug fixes and security improvements". The update is available for all devices that work with iOS 10.x and is recommended for all users. If you want to use a jailbreak, you should skip the update if possible or wait for it to happen.
On an iPhone 7, the update from iOS 10.2 is about 70 megabytes in size and therefore installed very quickly.