For a long time "wireless" and "gaming" were not a good combination in mice, the latency was too high. With the current generation this should be better. With the G703 Lightspeed "HERO" a current alternative should be found.
the G703 "Hero" has a different sensor than the previous model, with a resolution of 100 to 16,000 DPI and no smoothing or additional acceleration. The connection to the PC is realized by means of a USB dongle and the proprietary "Lightspeed" technology, the mouse is loaded by means of a micro-USB port. Unfortunately, Logitech has not yet installed a USB-C connector here, as would have been expected with a current mouse model.
The mouse wheel has a distinct raster pattern, which is ideal for changing weapons in online games, but is not ideal for office work. Logitech should offer at least one variant with the scroll wheel of the MX Master, where the rasterization can be deactivated by software or keystroke.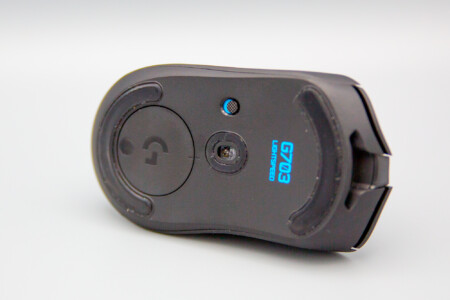 At 95 grams, the G703 is very light, especially for a wireless mouse. If that's too light for you, you can increase the weight to 105 grams with an insert in the base.
Like the G903, the G703 also supports power play, whereby the mouse pad charges the mouse during use via induction. This must be purchased separately and is not necessarily a bargain at a good 100 Euros - in my application scenario, the mouse has the chance to be charged at night at the latest.
What Logitech has now also built in here, as is common with gaming accessories: RGB lighting for a small strip in the mouse wheel and the Logitech logo on the back of the G703. How this influences the purchase decision is something everyone has to know for themselves, but for me personally, it wouldn't have been necessary.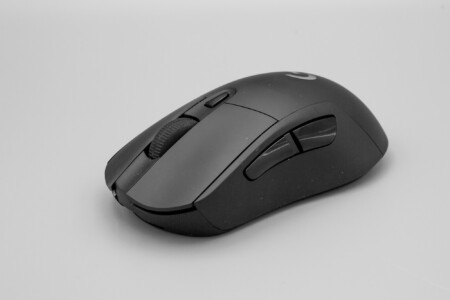 Two additional buttons are placed on the side, so that the mouse is only suitable for right-handed users. By default, they are assigned "Forward" and "Back", but this can be easily changed using the G-Hub software. The software can also be used to define profiles for games, so that different DPI settings can apply in first person shooters than when playing Excel.
Compared to the G500, the Logitech G730, which costs a good 85 euro, is clearly more "agile" and easier to move: neither a mouse cable is a nuisance nor is there too much weight that could slow down movement. As a high DPI user, such a precise mouse is of course also very pleasant in Windows.
The shape is - at least with my small to medium sized hands - very pleasing, you can put your hand down relaxed. Again, it depends on what the preferred hand position is, usually it doesn't help to try several mice until you have found your favorite. For me personally, this is currently the Logitech G703.
No products found.
Letzte Aktualisierung am 2023-03-30 at 09:25 / Affiliate Links / Bilder von der Amazon Product Advertising API