If you're looking for a simple notebook that still offers enough performance for all common office applications, you can get the HP 250 G7 with 8 GB RAM, quad-core Intel CPU and 256 GB SSD for a good 450 Euros.
The device is offered in a wide variety of configurations, the version under consideration here goes by the catchy name "6HM83ES" and has as its computing core an Intel Core i5-8265U CPU with 4 cores/8 threads from the Wiskey Lake generation (also known as 8th core generation).
The basic clock of the CPU is 1.6 GHz, maximum frequency is 3.9 GHz - so that even more complex office tasks should be manageable without problems.
One has to make concessions with the other equipment: "only" 8 GB RAM, "only" 256 GB Nvme SSD, "only" a Realtek WLAN card with 1×1 antenna configuration. You also have to do without features like an illuminated keyboard. The biggest minus point: the Full-HD display is matt, but only equipped with a TN panel. Therefore, the color fidelity doesn't reach the values of more expensive devices like the Dell XPS series.
The workmanship is perfectly ok for the price: plastic is used, but the feel of the notebook, which weighs just under 2 kilograms, is relatively good and appropriate for the price point.
What really has become a rare feature is the DVD burner, which of course can also open corresponding media. With the HDMI connection the HP 250 G7 then be connected to a television or monitor. The maximum resolution is 4096×2304 @ 24Hz via HDMI, other outputs such as DisplayPort are not available
Replacing the WLAN card is technically easy, but HP uses whitelists in the BIOS, so it is not possible to use just any Wifi card - since the built-in Realtek card is sufficient for the intended purpose, I did not change it.
HP 250 G7: Inner workings
Since it's relatively complicated to open the HP 250 G7 (you'll first have to loosen partially hidden screws on the bottom, then carefully loosen the retaining clips all around and then remove the bottom. The DVD-ROM drive is only plugged in and can be easily pulled out, which you should do before you start opening it.
Once all this is done, the inner workings of the HP 250 G7 are pleasantly easy to maintain, the Nvme SSD (in my model, there was a Samsung PM991 ), the RAM, the battery and the WLAN card can be exchanged with 8 additional screws. Unfortunately, only one antenna is installed, which makes a change to a more powerful model even more difficult.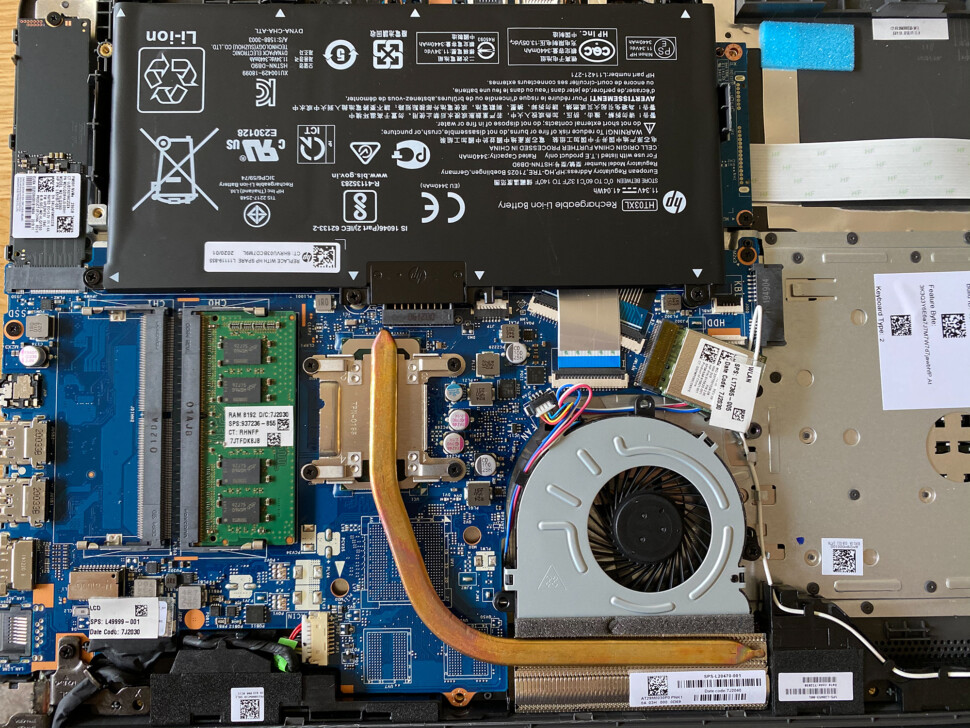 HP 250 G7 in everyday life
The one in HP 250 G7 6HM83ES Intel built-in Core i5-8265U achieves an average Cinebench R20 value of 1,350 points (according to Notebookcheck.com). The Single Channel RAM is configured in the 6HM83ES The gaming performance will have a negative influence on the gaming performance, but in practice this won't be a disadvantage - after all, you don't have a gaming notebook in front of you.
When opening office documents, web browsing or e-mails, the Intel CPU together with a NVME SSD can show its strengths in the form of a high single and dual core boost. Even the ventilation, which looks rather dainty at first glance, does a good job and the volume stays within limits (an exact dB measurement was unfortunately not possible for me).
What is unusual is the keyboard layout: the F keys are doubled with the function keys. The Enter key is only half-high. There is no illumination, but the white writing on black offers a high contrast and good readability under normal room lighting. The typing feel is a bit "dry", the keys don't have any curvature.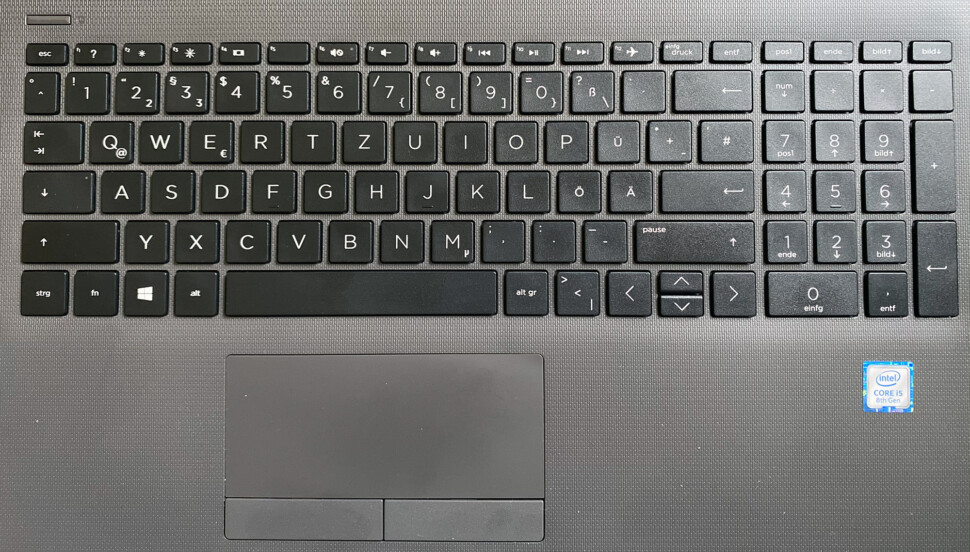 The touchpad from Synaptics works well so far, the two keys feel rather "tight". Of course, you can't expect top materials in this price range, the hard plastic palm rest gains a bit of valence and structure due to the "ribbing". However, the input devices are completely sufficient for everyday use.
HP 250 G7: Connections
HP has finally put a red pencil to the wheel in terms of connectivity: 1x HDMI, 1x Gigabit LAN (Realtek), 2x USB 3.0, 1x USB 2.0, an SD card reader as well as a 3.5mm connection are all that's available. In addition, there is the DVD-RW drive, with which you can both watch and burn DVDs.

HP 250 G7 (6HM83ES): Conclusion
For 399,- Euro you get an upgradeable (SSD & RAM) notebook, whose biggest weakness is the TN display: the viewing angle dependence requires that you position yourself accordingly with the notebook.
From that, there is a lot of performance for the money - latest when you connect an external monitor, you get a fast workstation that is also mobile and has a sufficient battery life. Those who can work with the described limitations will get an exciting device.
HP 250 G7 (15.6" Full HD) Notebook Intel Core i3-7020U 2.3GHz 8GB RAM 120GB SSD DVDRW Burner Win10 Pro
The HP laptop is equipped with a super-fast INTEL Core i3-7020U processor that provides more than enough power for office, home work and gaming.
A super-fast SSD hard drive provides more than enough performance for your data and applications.
Features: Superfast DDR4 memory, Bluetooth, HD webcam, HDMI, headphone jack, microphone, RJ-45, USB 3.1
The laptop device is very quietly cooled and very light, relaxed work / Internet surfing is thus nothing more in the way
Windows 10 Prof. 64-bit comes complete with all drivers installed, also includes a Libre Office package for installation
Last updated on 2021-09-19 at 11:16 / Affiliate Links / Images from the Amazon Product Advertising API.