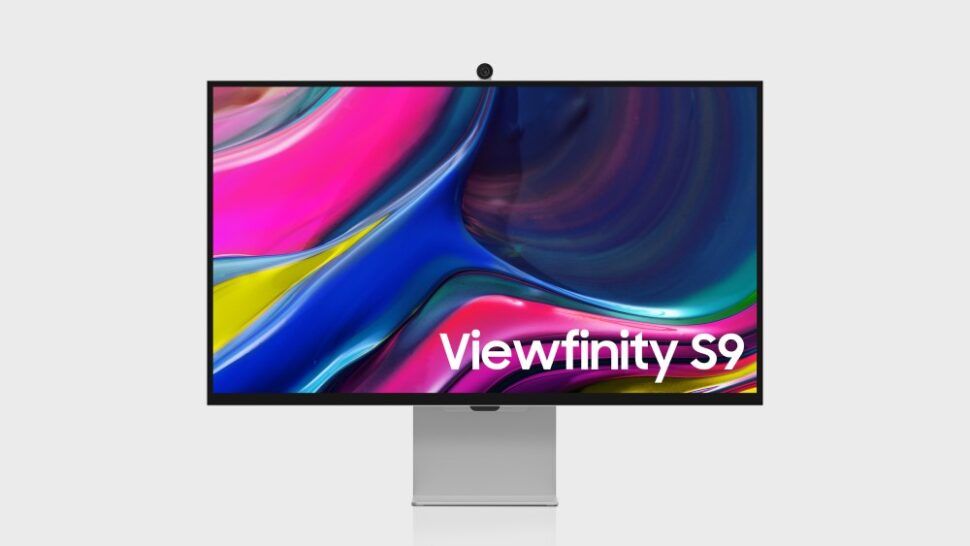 In January 2023, Samsung launched the Viewfinity S9 (model number: S90PC) presented - on paper a competitor to Apple's Studio Display (Where is the Samsung ViewFinity S9 (S90PC) with 5K? Update: Prices drop)']);" title="Jetzt kaufen bei Amazon" >€ 1,749.00* at Amazon.de): both monitors have a resolution of 5K (5,120×2,880 pixels) on 27 inches (pixel density with it: 216 dpi)The display has a high color space coverage and an integrated webcam (even though Samsung places it rather outside the monitor).
Content
Alone: after the Press release 03 January 2023 nothing has ever been heard about the Viewfinity S9 again: neither a price (which will probably be slightly below the very expensive Apple Studio Display) nor availability has leaked out so far (let alone officially announced).
In price comparisons (idealo.de, geizhals.de, Test winner.com), and there are no tests or further information on the Internet - a classic paper launch, which is a pity: neither is there any pressure on Apple to adjust the price of the Studio Display (which is rather unlikely anyway) nor to present a successor (which Apple will probably do at some point anyway, the 32″ XDR display could also use a refresh, and the webcam in the Studio Display cannot be corrected completely even with firmware updates from Apple.
The market for a monitor that really harmonizes well with macOS and the characteristics of Retina displays is definitely there - it is incomprehensible why Samsung does not seize the opportunity and keeps potential customers waiting instead.
As soon as there is something new I will update this post.
Update 07.05.2023: LG UltraFine 5K on offer
Although there is still nothing new about the Samsung Viewfinity S9 5K monitor, LG has increased the price for the somewhat outdated Samsung Viewfinity S9. LG UltraFine 27MD5KLP-B 5K at 899,- Euro incl. shipping lowered (currently the regular price of 1.099 Euro is valid again - Available directly in the LG store. Maybe LG knows more about Samsung's plans and tries to get the older devices out of the warehouses before there is more competition in the 5K monitor sector (one can still hope ;)).
Update from 04.06.2023: first sign of life from Australia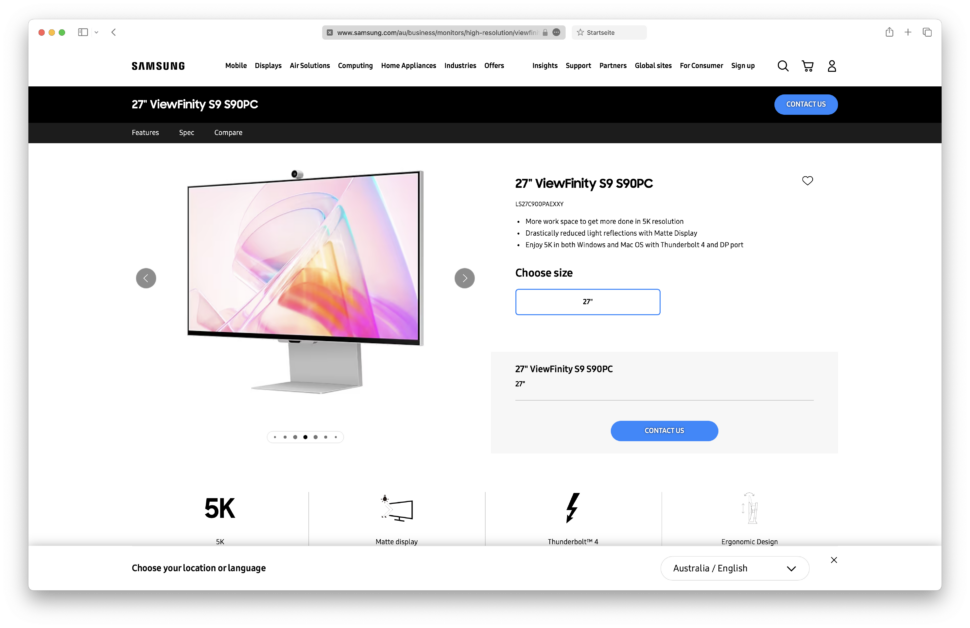 After LG ended the offer, there is now a first sign of life of the Samsung ViewFinity S9 from Australia (thanks to "Spacefrog" for the tip). Samsung has there (for a short time, on 25.06.2023 it is offline again) a corresponding Product page live, which does not have a price yet, but still has a few photos as well as technical data ready.
Apart from the already known data like Thunderbolt 4 and Mini-Displayport, the possibility to use it via Airplay and thus use it wirelessly "quickly" as an extension is exciting from my point of view. The original press release did not mention this, but Samsung is definitely aiming at a target group that uses both Windows and Apple devices.
The price remains exciting. The Apple Studio Display is currently available for less than 1,600 Euros - but with a glossy display and without a stand.
Regardless of the 5K monitor used, if you want to run two of them on a Mac that basically supports two monitors, you'll need a corresponding Thunderbolt 4 hub. After a bit of searching, the Sonnet Echo 5 Thunderbolt 4 Hub - from € 207.80 to be a suitable device.
Update from 08.06.2023: first prices & release date from Switzerland
Galaxus has in its Swiss store (not yet in German) the Samsung ViewFinity S9 ("LS27C902PAUXEN") listed, for 1,424 francs (equivalent on 08.06.2023 approx. 1.468,- Euro). The sales start date is the 25.08.2023 Whether this and the price are the final details is somewhat open - I suspect a slightly higher MSRP, which can of course quickly be undercut by the street price.
Although there is the Product page for the ViewFinity S9 also in the German Galaxus Shopbut there without price or delivery date.
The technical specifications correspond to the Australian product page I reported on four days ago, and an energy label is also already available, so there are no big surprises there. Samsung will thus place its 5K monitor in a similar price range as Apple's Studio Display.
Update 06/27/2023: ViewFinity S9 available for pre-order in South Korea
This time the thanks goes to "tskn04" who pointed it out in a comment: Sammobile.com announces, that the ViewFinity S9 in South Korea for 1.9 million won (approx. 1,335 euros, as of 27.06.2023). Samsung itself has also published a News in Korean has been published. It is still unclear when Samsung will bring the device to Europe (and at what price), but at least there is another sign of life.
Update from 30.06.2023: from August in Germany for EUR 1,729 RRP
Computerbase.de has asked Samsung about it and Learn, that the ViewFinity S9 will go on sale in Germany in August (the previous information was correct) for a recommended retail price of 1,729 Euros. This puts Samsung more in the range of Apple's Studio Display, which is already available for less, at least in the basic version.
It will be exciting to see whether the ViewFinity S9 will actually be available in August and what the street price will be.
Update from 09.07.2023: first prices in comparison, starting in September for EUR 1,849
There is no note or other rating yet, but Cyberport lists a price for the Samsung ViewFinity S9 on Testsieger.deWith 1849 Euros, it is considerably higher than Samsung's starting price, and the store also plays it safe with the delivery date of September 7, 2023. This seems to be a - halfway realistic - placeholder to have a listing at all. Or there is another delay in the delivery, which is not to be hoped for now. With an availability in September, the monitor would then probably only be available in Q4/2023, almost a year after the presentation.
Update from 02.08.2023: Samsung with shipping on 04.08.

Samsung currently offers the lowest price (and the RRP) in its own website. Store: 1.729,- € including shipping, the Shipment to start on 04 August 2023. Samsung thus starts slightly above the competitor's current street price ( Apple Studio Display - Nanotexture glass from € 1,619.00 ), but it also offers a stand, an entertainment hub with smart apps (based on Tizen), calibration via an app, and a 4K webcam. Whether the webcam is better than that of the Studio Display is still an open question, but the hurdle is not too high.
Who first Review of the Samsung ViewFinity S90PC (LS27C902PAUXEN) is still open, presumably there is an NDA here so that no results may be published yet.
Update from 20.08.2023: Shipping postponed to 22.08.
Apparently, even Samsung as the manufacturer has no overview of when the Samsung ViewFinity S90PC (LS27C902PAUXEN) In the official Samsung store, the shipping date is pushed further and further into the future, and pre-orderers do not seem to have received any deliveries yet. Other stores like Cyberport, on the other hand, already undercut the MSRP significantly and list the ViewFinity S90PC for 1,518 EUR (Status: 20.08., 21:10) - the shipping is supposed to start on 31.08.2023, so we will see if that is more realistic than Samsung's statement. The development of the street price is also still open; apparently, Samsung's MSRP can basically be undercut by retailers.
Update from 17.09.2023: Price for Samsung ViewFinity S90PC decreases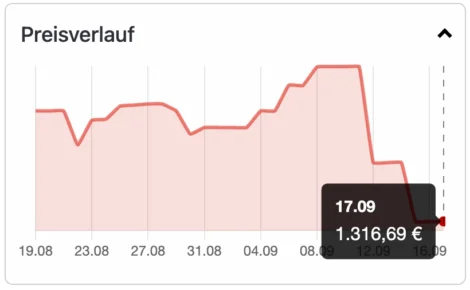 The RRP of 1,729 Euros only lasted for a short time: the price progression for the Samsung ViewFinity S90PC shows that Samsung's alternative to Apple's Studio Display is not as price stable - but it slowly seems to become a cheaper option to get a current monitor with 5K resolution. LG's UltraFine 27MD5KLP-B is clearly beaten in terms of features and no longer exciting for 1099 Euros.
Currently (17.09.2023) the Samsung ViewFinity 5K from around 1,320 Euros - a good 400 Euros below Samsung's release price. It also looks like the price will drop further: at a price below 1000 Euros, the monitor would be a bargain, after all, the selection of monitors with such a high pixel density is unfortunately very thin.
Zuletzt aktualisiert am 3. December 2023 um 12:25 . Wir weisen darauf hin, dass sich hier angezeigte Preise inzwischen geändert haben können. Alle Angaben ohne Gewähr.
Last updated on December 3, 2023 at 12:04 . Please note that the prices displayed here may have changed in the meantime. All information without guarantee.