After a few years with two Dell 2515H, the time was ripe for a new monitor that combines the different requirements in one device: as much screen surface as possible, high color fidelity, many connections and for a game in between even more than 60 Hz..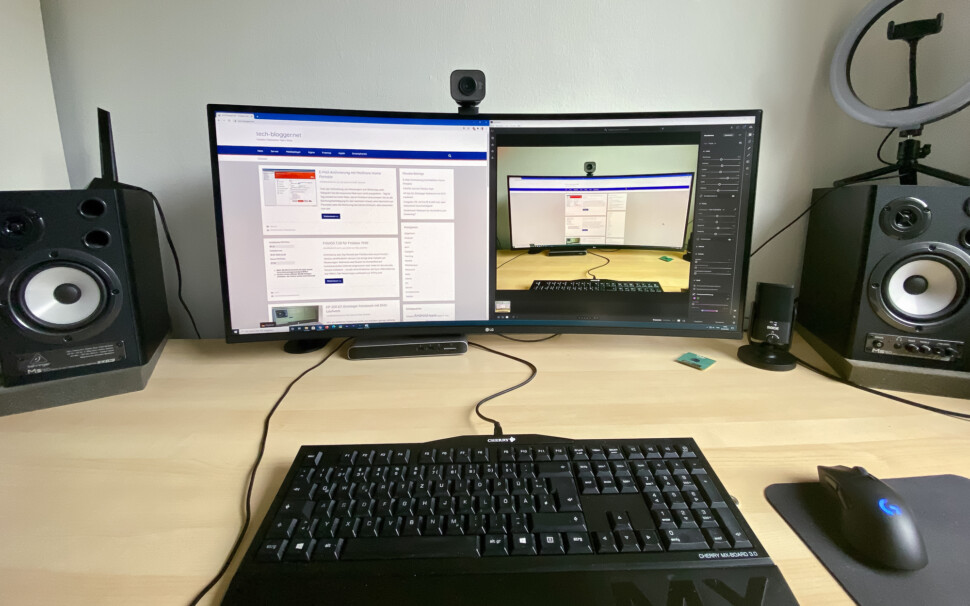 After some research. LG 38WN95C left, practically the "serious" brother of LG 38GL950G. Both devices have the following basic technical data in common: 3,840 x 1,600 pixel resolution, Nano-IPS, 144 Hz, AMD Freesync and Nvidia G-Sync compatible. Plus DisplayHDR600 and 98% DCI-P3 colour space coverage. Essential difference between the LG 38WN95C who is at stake here and the LG 38GL950GThe latter has a black housing and RGB optics that are more suitable for gamers, whereas the LG 38WN95C with Thunderbolt-3 offers the possibility to connect a notebook (e.g. a Macbook) directly and also to charge it via the USB-C cable.
The essential technical specifications:
| | |
| --- | --- |
| Resolution | 3840 x 1600 @ 144 Hz (DisplayPort+HDMI) |
| Colour representation | 1.073 billion (10Bit) 98% DCI-P3 |
| radius of curvature | 2300R/2.3m |
| Reaction time (GtG) | 1 ms |
| Inputs | 2 x HDMI, 1 x Thunderbolt™ 3, USB 3.0 (2 downstream), DisplayPort 1.4 |
| Viewing angle horizontal | 178 ° |
| Vertical viewing angle | 178 ° |
| Variable refresh rate | AMD FreeSync, Nvidia G-Sync compatible |
| Power consumption | 80 watts |
LG 38WN95C technical data overview
On the desk, the device takes up a good 95 centimeters wide - unlike a traditional multi-monitor setup, the gap between the devices is eliminated. So far, I've solved it in such a way that one monitor was in the centre and the other one to the left. With the aspect ratio of 24:10, you have the area of two monitors with a resolution of 1.920 x 1.600 at your disposal. Not quite as wide as a 49-inch model with 5,120 x 1,440 pixels, but more pixels in height and thus usable surface area, which is particularly practical when editing documents.
What actually seems to be difficult is the representation of white areas: maybe I'm imagining it, but at least in my particular specimen, the white areas on the right and left half of the monitor are not exactly the same. An effect that is also present in a weakened form on the much smaller Dell 2515H. There, however, it is not as noticeable.
Connections and special features
Unlike its gaming siblings, the LG 38WN95C via a Thunderbolt 3 port via USB-C. Connected to it, the native resolution of the display can be operated at 75 Hz on a Macbook Pro 13" from 2018. At the same time the notebook is charged via the port. Of course it also works with the Elgato Thunderbolt 3 Dock in between.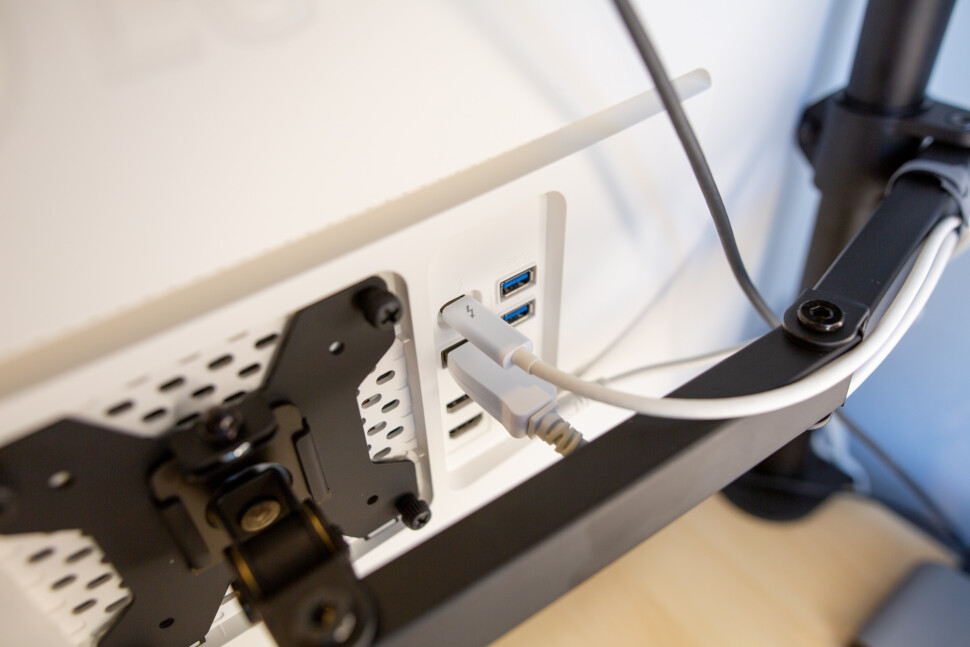 Strangethe USB 3.0 ports on the rear panel work onlyA separate port to connect the monitor via USB when using DisplayPort or HDMI, which LG hasn't thought of.
The curvature falls with a radius of 2.3 meters (2300R) This is in contrast to the Samsung Odyssey Q9, for example, whose display is much more curved with a radius of 1000R (1 meter). The immersion in games is somewhat weaker as a result, but lines aren't quite as "crooked".
A characteristic feature of LG monitors is the adjustment via a small "joystick", which is also the power button. The menu offers all relevant settings and also the possibility to manage own presets. Normally you don't change these settings much after the initial setup anyway. The control itself is quite simple and more pleasant than the Dell 2515H's four individual touch surfaces.
The on-screen menu can also be used to select the gaming modes, switch inputs and turn off the display.
LG 38WN95C: Stand
The stand is quite protruding, of course also to bring the weight of such a large display onto the desk without wobbling. What bothered me personally: the stand prevents the display from being placed as far back as possible on the desk, and the height adjustment is also limited. Both reasons why I left the base in the box and directly purchased a corresponding VESA100-compatible mount. [amazon link="B01MZ70QJB" title="BONTEC Monitor Mount Height adjustable" /]. It is important that the bracket should hold a good 10 kg.
LG 38WN95C Gaming: Nvidia G-Sync compatible & 144 Hz
Connected via DisplayPort 1.4, the display is recognized as G-Sync compatible and can adjust the refresh rate to the frame rate accordingly. Advantage: even with fluctuating frame rates without V-Sync, there is little or no tearing of the image. All in all, this results in a more fluid image impression. If you use an AMD graphics card, you can use FreeSync, which in the end works the same way.
For games themselves (I tried it with Destiny 2 and Quake Champions) it works fine, the website blurbuster.com offers even more in-depth information about G-Sync and the optimal G-Sync settings.
The repetition frequency of 144 Hz makes itself felt positively even in Windows - for a long time I wasn't convinced that more than 60 Hertz has any advantage at all. After a weekend with the 38WN95C I have to say I was wrong. When moving windows and scrolling etc. it is much more comfortable, the font and the elements remain much clearer and easier to read.
LG 38WN95C-B: Price/performance
LG, the combination of a large office monitor with high color space coverage, multiple connections of Thunderbolt-3 to HMDI2.0 and 144 Hz pay well, The LG 38WN95C-B is available from 1.440,- Euro (Status: 06.09.2020), starting at 1.362,62 Euro (however with unknown delivery date). In return, you can already get higher resolutions or wider monitors with 49 inches. For me, however, the LG is the most suitable compromise of all features, the only thing that might still be nice: a doubling of the resolution, but until resolutions of 7,680 x 3,200 pixels with 144 Hz are possible, it will probably take a few more years.
LG 38WN95C: 144 Hz monitor for home office & gaming tried)']);" title="Jetzt kaufen bei Amazon">LG UltraWide Curved QHD+ Monitor 38WN95CP-W 95.29 cm - 38 inches, AH-IPS panel, AMD FreeSync, HDR10, white/silver*.
95.29 cm (38 inches) AH-IPS display with QHD+ resolution (3,840 x 1,600 px), Nano IPS and 99% sRGB; aspect ratio: 24:10 (UltraWide)
Display with HDR10 incl. Reader Mode, eye-saving Flicker Safe Backlight Technology, My Display Presets, Mac compatible, Mega Contrast, Color Weakness Mode and Smart Energy Saving; integrated speakers (2 x 10 W) + MAXXAUDIO Surround
UltraWide format for more desktop workspace with 4 screen split; replaces two 24-inch QHD monitors; nearly bezel-less, slim design; gaming features: AMD FreeSync, Game Modes, Dynamic Action Sync and Black Stabilizer.
Connections: 2 x HDMI, 1 x Thunderbolt 3, 2 x USB 3.0 (downstream), DisplayPort 1.4, headphone output
Scope of delivery: power cable, manual on CD, driver CD, HDMI cable, DisplayPort cable, USB Type-C to USB Type-C cable (1m), USB cable, cable holder, quick start guide, external power adapter
Last updated on 24 September 2023 at 13:29 . Please note that prices displayed here may have changed in the meantime. All information without guarantee.