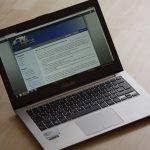 ASUS wants to be a serious contender with the Zenbook UX32Vd. Macbook Air competitors position. There is one very important point that is lacking: the touchpad driver cannot process the inputs as smoothly as Apple does with its devices. This inevitably makes me wonder: what kind of people test the drivers before they are unleashed on the customer? Moreover: with a newer driver version, previously available settings options have disappeared, which have also not been reactivated up to the current day (25.05.2014).
Is it just me, or is it really the little things that actually keep giving Apple an edge? Windows itself, after all, will probably be able to respond reasonably to a touchpad. Maybe it will get better with Windows 8, but ultimately ASUS has to deliver here. Basics like a deactivating touchpad when typing or scrolling with multiple fingers should just work cleanly and reliably - the user should not be forced to deactivate the touchpad and use an external device if necessary.
Readers here may forgive the emotional tone of this post - maybe others feel the same way. And maybe someone has some good tips on how to better configure the touchpad.
Update: no improvement in sight
Unfortunately, Asus doesn't seem willing or able to significantly improve the touchpad drivers: even after almost three years, there are still problems with the touchpad. Whether it is for Windows 10 better drivers is still open - I will not update to the new Windows version for the time being.
[amazon_link asins='B01MY7MFRL,B072N637PW,B01LZTWIA5,B01N6MV9KM,B01MT8G7VY' template='ProductCarousel' store='techbloggernet-21′ marketplace='DE' link_id='f8037a3c-d1e6-11e7-96bf-8db96809e256′]