After I was actually a LG Nexus 4 and then after a few Start-up problems with iPhone 5 I would like to record my impressions after four weeks with a (white) iPhone 5 for posterity. First of all: since the iPhone 3G, I have always owned the first litter of Apple. First the iPhone 3G before the 3GS, then the iPhone 4 before the 4S and now the iPhone 5 before a possible 5S.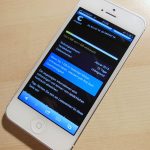 As is well known, the iPhone 5 differs significantly from its predecessor: instead of a glass back, Apple uses aluminum, which makes the iPhone 5 much lighter despite the larger display. Thanks to the same width, it fits well in the hand even with small hands. To achieve the same pixel density of 326ppi as the iPhone 4/4S, Apple has increased the resolution to 1,152 x 640 pixels - apps that have not yet been adapted to the iPhone 5 display are shown with a black bar at the top and bottom (this also applies to web apps). The camera also takes good and clear photos - for snapshots on the go it's definitely enough. With iOS 6.0.2, it also blends in well with the Apple world: using AirPlay, content can be displayed on Apple TV The LTE connection can be shared with a Macbook (or other notebook) as a mobile hotspot.
All in all, the iPhone 5 is the logical continuation of the iPhone line: larger, but not yet too large display, dual-core CPU and LTE (which unfortunately only works in the T-Mobile network in Germany, but also with Congstar). And in the white version also no problems due to peeling paint, which is called "Scuffgate" in some forums. Also the exhibits in the Apple Store in Munich showed clear signs of wear, with the iPhone 5S (or iPhone 6) Apple will hopefully do better.