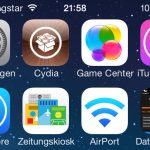 Quite surprisingly, before Christmas, untethered iOS-7-Jailbreak was released, which also works with all devices. The jailbreak tool is named "evasi0n7" and can be evasi0n.com for Mac OS X and Windows.
The jailbreak is performed at your own risk, the device may become unusable.
The tool performs the necessary steps automatically, the time required is about 10 minutes. The data on my iPhone 5 was preserved, but nevertheless you should make a backup before if you want to restore the device after jailbreak (like me, who is actually not a jailbreak user and only tried it once for this post.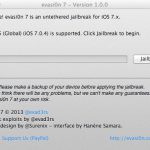 During the jailbreak on iOS-7 devices, the Cydia Store installed. This can be used to install additional software, such as new themes or system tools. Of course, you have to make sure that the respective apps are already compatible with iOS 7, otherwise undesirable side effects may occur.
Evasi0n7 runs on all devices that support iOS 7: iPhone 4, 4S, 5, 5C, 5S, iPad 3, 4, Air, Mini, Mini Retina, and their respective iPods. Also, iOS 7.1 Beta 1 and Beta 2 are already supported - apparently there is an attack vector that cannot be closed so easily by Apple and is open in different iOS versions. Somewhat worrying, since a jailbreak always exploits a security hole in iOS.
iOS-7 jailbreak removal and assessment
If you want to uninstall the iOS-7 jailbreak, you have to reset your device - a simple backup is not enough, the firmware has to be downloaded completely. However, this is not a major problem, it just takes a bit more time (depending on your own internet speed).
What the new iOS-7 jailbreak to the individual user naturally depends on whether one is satisfied with the range of functions of iOS 7 or not - and whether one wants to use apps from the Cydia store. In any case, it is of course good that there is a way to free iOS 7 from its shackles.
Update 23.12.2013
The evasi0n7-jailbreak is not free of problems: the most important thing is the integration of the Chinese Appstore Taig discussedthis one is supposed to contain pirate copies, which the jailbreak makers Evad3rs have excluded by contract, but it remains a bland aftertaste. Moreover, the binaries of the jailbreak are disguised - according to Evad3rs, this is to prevent reverse engineering, but it also makes it more difficult to exclude that the jailbreak contains malware in any form.
Update 25.12.2013
Like Golem.de reportsEvasi0n7 is now available in version 1.0.1 without the controversial Taig App Store, which was discredited because of the spread of pirate copies. However, there is already another jailbreak version, which still contains the Taig App Store, which is important for the Chinese market.