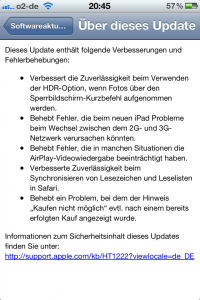 After the iPad 3 If you're having problems switching between cells, there's a new version of iOS now available without warning: 5.1.1. iPad 3 users will be most interested in the fix for the transition from 2G to 3G networks, if Apple has really got the problems under control, and reliability has been improved when using the HDR option when the camera is launched using the lock screen shortcut. These changes apply to all devices running iOS 5.x, only the network settings changes are exclusive to iPad 3.
There are also minor bug fixes for AirPlay video playback, reliability improvements when syncing Safari bookmarks, and a fix for the "unable to buy" indicator that sometimes appeared when a purchase was already made. For more information about the iOS 5.1.1 update, see Apple.
The update can be installed over-the-air and should be displayed automatically on devices for which the update is available. For me, this was the case with iPad 3 and iPhone 4.