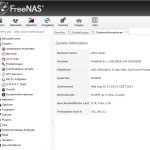 After FreeNAS 9.1.0 which appeared not so long ago, is now available with FreeNAS 9.1.1 a bugfix release has been released. This will mainly fix minor problems that have been encountered on some FreeNAS installations (e.g. the 32-bit plugins did not work). Also broken features (like not working AIO in Samba3 or IPv6 in Plugin-Jail) have been fixed according to the official announcement. Furthermore stability improvements in the ZFS file system have been included in the new FreeNAS version.
The complete list of changes can be found on the FreeNAS page: FreeNAS Bugtracker. The download of the FreeNAS 9.1.1 ISO and upgrade files are available on the FreeNAS website or on Sourceforge ready.
If you are still looking for a FreeNAS system you might find it in my Shopping list for a FreeNAS system based on HP-N54L Inspiration. But FreeNAS also runs very well on other systems.