Unlike for Windows with Mailstore there is no corresponding free solution for macOS (or I haven't found it despite longer research) -. Mailbackup X is a paid alternative.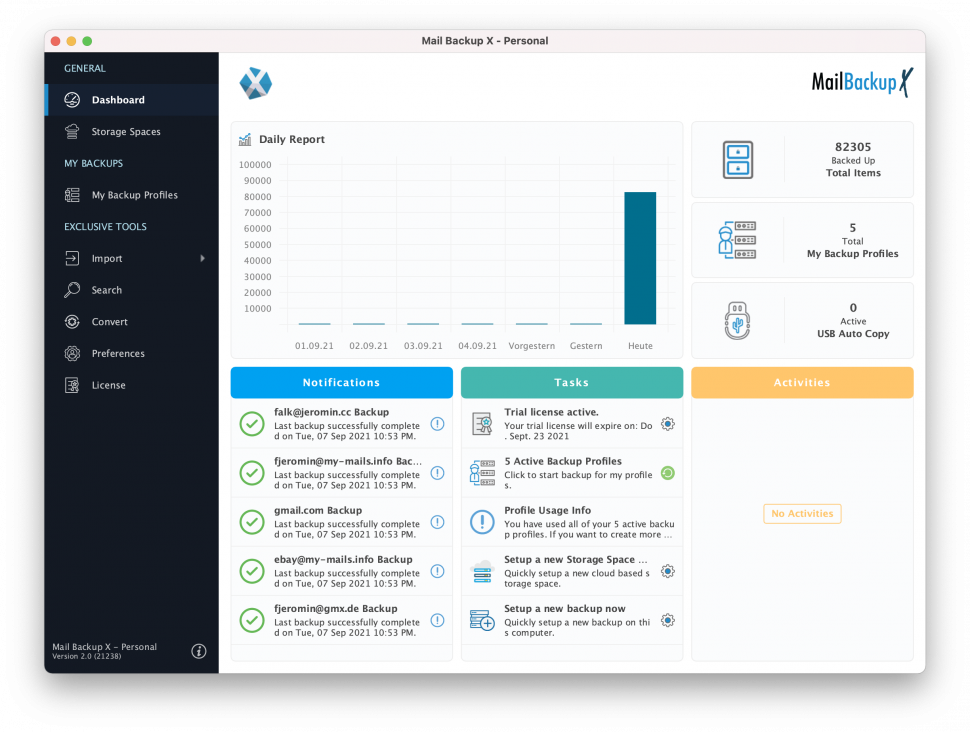 The functionality is similar - first the respective accounts have to be created, then there are settings how often and where the mails should be saved. In any case, it makes sense to choose encryption here, so that the mails are not readable for everyone on the hard disk (which should of course also be encrypted in itself, just like the Time Machine Backup).
Once set up, the most important thing with mail backup software is how well you can access the archive. Just like Mailstore, Mailbackup X offers the option of quickly searching through all mails - which works smoothly with my manageable mail inventory of around 82,000 mails.
One disadvantage of Mailbackup X: unlike Mailstore for Windows, the basic license only includes the backup option for five different mail accounts - but it runs automatically and does not have to be started manually, and ten additional accounts can be added.
Why do you need a mail backup as a private user at all? There are several reasons for this - e.g. with free email accounts like GMX, you only have a limited amount of storage space, so you have to delete mails every now and then. In addition, the search function directly on the mail server via IMAP is usually not very fast and good, so that a separate search index can also be helpful here. For me, enough reasons to also back up my private mails, if you have business mail traffic, an appropriate solution is of course even more relevant.
How does it look like for others? Feel free to leave a comment if you also use email archiving - or is email completely extinct for most? Let me know!
No products found.
Letzte Aktualisierung am 2023-03-24 at 22:25 / Affiliate Links / Bilder von der Amazon Product Advertising API