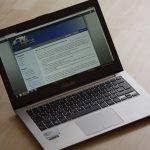 The - especially because of the display - very interesting Zenbook Prime UX31A and the Zenbook UX32Vd (with Nvidia GeForce 620M) is meanwhile available at first dealers listed. The UX32Vd is the slightly cheaper model. ASUS does without a unibody case and a large SSD in this model - but the price is just over 1,000 Euros. The UX31A is the "luxury model" with a unibody aluminum case and a 256 gigabyte SSD.
Both devices are available with a Full HD display that uses IPS technology. This results in very low viewing angle dependency, and the display is also very bright according to initial tests. Also always available: a backlit keyboard and USB 3.0 as well as the Zenbook look, which is generally considered very classy. ASUS releases several different models. The following variants are mentioned in the shops so far, which mainly differ in terms of display and CPU:
UX32Vd-R3001V (Core i5-3317U, 1.366×768, matt)
UX32Vd-R4002V (Core i7-3517U, 1,920×1,080, matt)
UX31A-R4002V (Core i5-3317U, 1.600×900, mirroring 1,920×1,080, matte)
UX31A-R4003V (Core i7-3517U, 1,920×1,080, matte)
UX31A-R4004V (Core i7-3517U, 1.600×900, mirroring 1,920×1,080, matte)
(whether these data are actually all correct will be seen when ASUS actually lists the notebooks on the homepage, until then they are to be enjoyed under reserve).
The current prices range between 1,000 euro for the most basic version and 1,399 euro for the top version with a Full HD display, Core i7 and 256 GB SSD.
Update: Now that the new Zenbooks are listed at more stores, more details are known, especially about the display resolution: all UX31A "Zenbook Prime" feature the Full HD IPS display and only differ in CPU and SSD equipment.
Update 2: In the meantime, DHL has delivered a copy (UX32Vd-R4002V) so that I could write a short experience report: ASUS Zenbook UX32Vd-R4002V Hands-On.