AVM introduced three new routers shortly before the Mobile World Congress: The Fritzbox 5690 Pro, 5690 XGS and 6860 5G. The first two models are already equipped for the new Wi-Fi 7 WLAN standard and can establish wireless networks in the 2.4 and 5 gigahertz frequency ranges. The Pro version additionally has 6 GHz.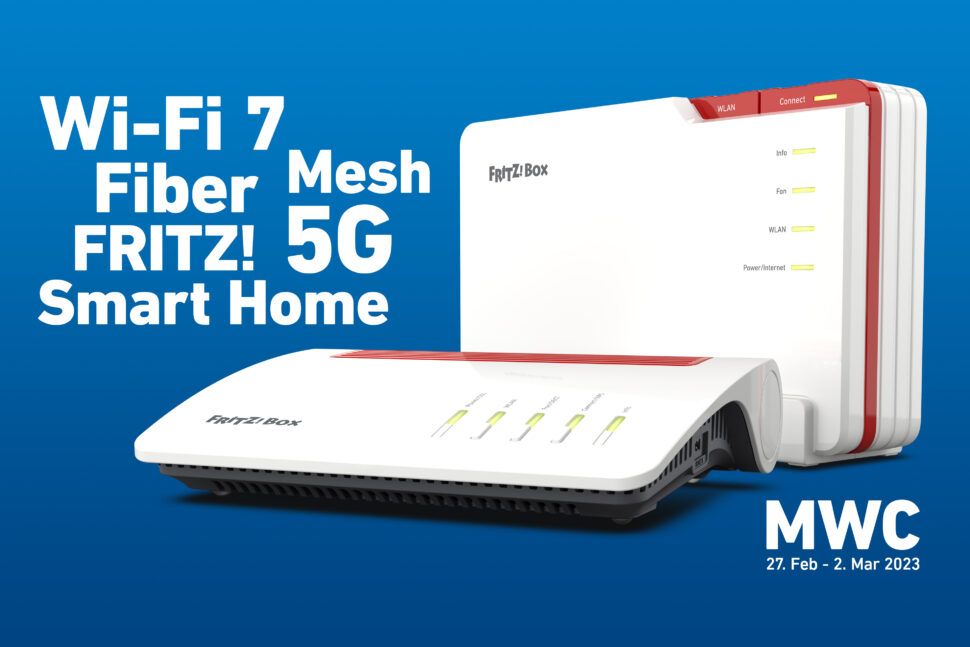 The Wi-Fi 7 specifications, which should be finalized soon, are supposed to reduce network latency and increase transfer rates. Thanks to backward compatibility with Wi-Fi 6(E) and older standards (as is usual with WLAN), older devices like smartphones and notebooks can also connect to the routers.
The Fritzbox 5690 Pro is AVM's first WLAN router that can be operated either on the telephone line or on an optical fiber. The model has both a DSL modem and an SFP slot for optic modules with transmission speeds of up to 2.5 Gigabit/s on a passive GPON port and 1 Gbit/s on the active AON port. It also offers the best wireless equipment of the newcomers with Wi-Fi 7 and four MIMO streams in the three WLAN bands 2.4, 5 and 6 GHz.
The Fritzbox 5690 XGS comes without a DSL modem and only runs independently on fiber-optic connections. AVM has provided an SFP+ slot for the next fiber-optic generation with 10 Gbit/s here. The sister version only operates in the 2.4 and 5 GHz bands.
Both routers are the first AVM devices to support Zigbee and the cross-vendor Matter standard for controlling smart home devices such as lamps and thermostats. In addition, they can still handle DECT cordless phones and smart home devices that use the energy-saving version DECT ULE.
The Fritzbox 6860 5G mobile router has also been updated. The model masters Wi-Fi 6 and is thus an upgrade to the previous 6850 5G. Zigbee and Matter support are also available here.
AVM has not yet commented on delivery dates and prices. However, it is to be expected that all three routers will be beyond 300 Euros.
With the introduction of Wi-Fi 7 and support for Zigbee and Matter, AVM underscores its position as one of the leading providers of WLAN routers and smart home solutions on the market.
More about the new routers can be found in the Press release from AVM.
Last updated on 24 September 2023 at 13:29 . Please note that prices displayed here may have changed in the meantime. All information without guarantee.