Like teltarif.de As reported at the Freenet annual results press conference, Congstar will be able to offer LTE in the Telekom network from March 6.
Up to now, LTE use has only been possible in old contracts, which still use the Telekom LTE network - albeit at a reduced rate of 7.2 Mbit/s. A corresponding 9-cent tariff, with which no options were ever booked, is still in use in my immediate vicinity. Current contracts at Congstar are limited to UTMS, which is increasingly becoming a problem when Telekom focuses on LTE expansion.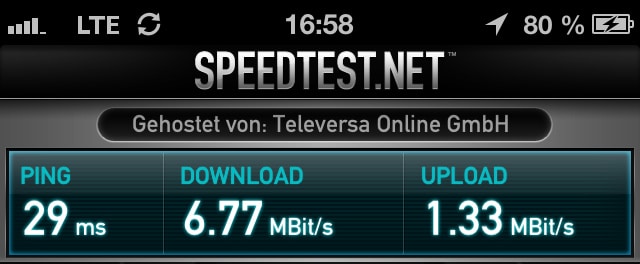 LTE will come as an option (probably with costs) under the working name "Speed" - the speed behind it will probably be 50 MBit/s. This is significantly less than the maximum speed of the Telekom network, and not much more than the 42 Mbit/s that Congstar offers in the data turbo via HSDPA. It remains to be seen whether the LTE support will also enable VoLTE.
In addition to Congstar, Freenet brands such as Mobilcom-Debitel, Klarmobil and others are also to be given the option of LTE use, especially for low-cost rates - Freenet also sees this as a competitive advantage over competitors such as 1&1, which cannot currently offer an LTE option in the Vodafone network. However, if Deutsche Telekom leads the way, it is only a matter of time before Vodafone follows suit.
Update: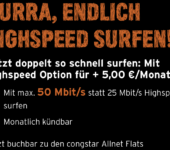 Congstar has now introduced the "high-speed" option, which enables data transfer rates of up to 50 Mbps. The 300 MBit/s that the Telekom network provides at the maximum are reserved for the main brand.
Likewise, the option cannot be booked in all tariffs, but only for Allnet Flat or and Allnet Flat Plus. This makes the tariffs much less attractive: at least 25,- Euro per month are due. What's missing: Voice-over-LTE and WlanCall - so when it comes to telephony you can't benefit from the better network coverage provided by LTE.
Whether the high-speed option will also be available for other tariffs is still open - there are rumours to that effect, an official announcement is still pending.
Last updated on December 3, 2023 at 12:24 . Please note that the prices displayed here may have changed in the meantime. All information without guarantee.