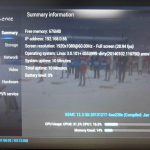 A Linux XBMC image has now been released for the Geniatech or myGICA ATV1200 Android TV box. With it comes an interface reduced to XBMC, but those who don't want to use Android apps anyway will get a fast XBMC box, which has no problems with Full-HD videos.
Switching from Android to Linux is easy: the current Linux XBMC image is available for download at Geniatech (from 2014-01-02), in the XBMC forum there is a Discussion to that. The steps to get the Linux image onto the box are simple.

Attention, this process may cause the box not to start smoothly! An 8 GB SD card must be used for this process to be successful!
Download Geniatech unzip and copy content to an SD card
Press the Upgrade/Reset button
Plug in the power cord, press and hold the reset button for another 10 seconds
Release the reset button and wait for the upgrade process to start (takes ~2 minutes)
Done, the box starts with XBMC
About "System" -> "Settings" -> "System" -> "Internet access" the network connection can be configured, both WLAN and Ethernet are available as usual. The settings are retained even after a restart of the box. The remote control also works according to various reports, I use a Logitech K400 keyboard. I have tried the XBMC installation with different media (among others as Client for tvheadend), which worked smoothly. Only the video output has to be calibrated so that the overscan settings fit to the respective TV and/or monitor.
ATV1200: from Linux back to Android
If you prefer to use Android again, you can undo the upgrade process to Linux and use the Android 4.1 originally installed on the ATV1200 again. Only a few steps are necessary:
download update_stvmx_20130805_eng.zip and HowToRevertToBox4.1.zip
Unpack HowToRevertToBox4.1.zip and copy the content together with update_stvmx_20130805_eng.zip (leave it packed!) to SD card
Press the Upgrade/Reset button
Plug in the power cord, press and hold the reset button for another 10 seconds
Release the reset button and wait for the upgrade process to start (takes ~2 minutes)
The ATV1200 box now boots Android 4.1 again