If you want to keep files in sync between multiple devices, the first thing that comes to mind is services like Dropbox or solutions like Owncloud. With BitTorrent Sync there is another solution that is based on the bittorrent technology and performs a sync in the background.



The biggest difference to Dropbox: with BitTorrent Sync the data is not uploaded to a cloud storage, but only between own devices. If you want to have the data available at all times, the corresponding storage location must be constantly connected to the Internet. If you have enough uploads, this could be a FreeNAS installation at home (that's how I use it), or a root server that is directly connected to the internet. If you only want to synchronize the files between computers in your home network (e.g. between desktop and notebook) this is also possible without any problems, BitTorrent Sync then uses the existing LAN connection.
Setup of BitTorrent Sync on FreeNAS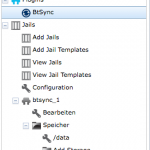 BitTorrent Sync can be added very easily on an existing FreeNAS installation: a plugin exists. The plugin jail gets its own IP address, you have to define a location for the files and add it to the jail.
Once BitTorrent Sync is installed as a plugin, you can start the web interface at http://ip-des-Jail:8888 reach. Via the web interface you can define folders to be synchronized and view or change the respective access keys. Since these values give you access to the stored data, the web interface must be protected with a password if it is accessible from outside. You should also change the default port or configure the firewall so that only certain IP addresses can access it.
BitTorrent Sync Clients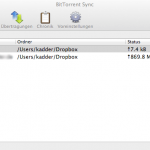 Clients with which certain folders can be synchronized are available for most popular operating systems: Windows, Mac, Linux, iOS and Android.
In the client, the local directory to be synchronized is selected. You don't need to select target devices, the data will be synchronized with all devices that use the same key (as shown in the picture on the right, btsync_1 is the local FreeNAS installation, the second entry is an external server). The data is then available on all devices, which makes BitTorrent Sync an interesting backup alternative.
Encryption with Boxcryptor
Although BitTorrent Sync encrypts the data transfer, the files are not encrypted at the destination. This behavior makes it easier to work with "unimportant" files, but is critical for confidential data. One solution: using Boxcryptorwhich was originally designed for use with Dropbox, you can easily create an encrypted directory which can then be synchronized via BitTorrent Sync. The disadvantage: you can only read the data on devices where Boxcryptor is installed. Alternatively, you can also use a TrueCrypt container can be synchronized - so there are different approaches to how the data can be secure at the destination. In principle, the same restrictions apply here as with Dropbox: Data that you want to be sure that no third party reads must be encrypted locally and only then transferred - even if the target is your own server, this could also be compromised.
Conclusion
Personally, I like BitTorrent Sync more than OwnCloud, which is seen as an alternative in some forums. Unfortunately there is no web interface (if you run a server with PHP you can use Owncloud at the same time), but the sync over multiple devices works similar to Dropbox. Currently I'm using Dropbox and BitTorrent sync on one machine in parallel (the same directories are synchronized so that the same data is available on the BitTorrent sync devices and in the Dropbox), but my goal is to switch to BitTorrent sync completely. Primary device, because available without the limitations of slow uploading, is my FreeNAS 9.2.0.
I will BitTorrent Sync now in any case give it a chance and largely do without dropbox. Maybe I'll also add my Raspberry Pi, but actually the small computer has too little memory.
Update February 9, 2014
I've been using BitTorrent-Sync for about four weeks now - in the meantime I've installed Owncloud to make it easier to access my data when I'm on the road. This gives you the convenience of Dropbox, but without the limited storage space and without having to store your data on a foreign cloud. Furthermore a Cubietruck as BitTorrent Sync Node integrated, so I have a lot of storage space with low power consumption.