Even a high-end PC gets old at some point - after several "upgrades" it was time for a bigger leap: from Nehalem to Skylake.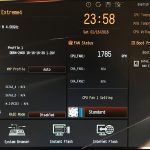 Speaking in generation: from the first generation of Intel's "Core i7", code name "Bloomfield" for Socket 1366 towards the 6th incarnation in the form of the Core i7 6700K ("Skylake"). Even without the improvements in efficiency, the increased clock rate (without overclocking) from 2.66 GHz to a smooth 4.0 GHz already results in a very solid additional performance.
Of course, such a fundamental change of the processor cannot be accomplished without additional new hardware components. Therefore I decided to use the following setup, which will be supplemented by a new graphics card in the near future:

With the selection of mainboard and RAM I was mainly interested in a good price/performance ratio. In addition, the components should do their job for a while, extreme overclocking or something similar will not be on the agenda for the time being. Nevertheless, the new system is water-cooled: two 240mm radiators, a Heatkiller IV Pro and a Laing DDC 1T-pump should ensure sufficient cooling of the components.
The conversion is not yet complete - so there will be more parts to follow. Among other things I have planned to "head" the CPU and to exchange the heat conductive paste used by Intel between Heatspreader and Liquid Metal. There will be a video on this site as soon as I have done that.
For me, the change to the new system also involves some other "changes" - instead of a classic Award BIOS, there is a nice UEFI (see picture at the beginning), which can be operated with the mouse and can update itself without an operating system. Also that Asrock is no longer a "cheap" brand (like in the days of the S939 Dual SATA2or directly after the Extraction of ASrock from the ASUSTek (which is mainly for mainboards and other components under the label "ASUS").
In any case, I am very curious to see how the conversion and the changeover to the new system will continue. Especially the rebuilding of the water cooling system will be very interesting - especially if the circuit is tight at the end.