The popular Raspberry Pi has been released in version B+: besides a better power supply, the most important new feature is the number of USB ports.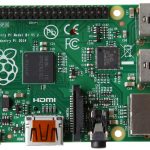 Instead of two USB 2.0 ports, there are now four - practical if you want to connect a WLAN adapter and external hard drive in addition to mouse and keyboard. The other key data remain the same: the SoC clocks at 700 MHz and the memory is 512 MB. Instead of an SD card slot, a micro SD card slot is now used, so that existing installations can be used, but must be transferred to another memory card.
Those who already use a Raspberry Pi do not necessarily have to switch to the new model. At Amazon the new Raspberry Pi B+ model for 40 Euro and thus a little more expensive than the previous model, the previous housings no longer fit due to the changed connections. Also here there are suitable Solutions on Amazon.
But if you are just about to buy a Raspberry Pi, you should go for the B+ model right away. Those who use the Pi as a media player will probably be a bit disappointed that the new model does not have more clock speed.