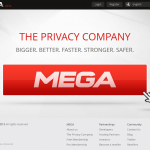 Almost exactly one year ago, the MegaUpload service, operated by Kim Dotcom, was closed down by the authorities and went offline. The charge at the time: distribution of copyrighted material, the trial is still ongoing. However, this did not stop Kim Dotcom from launching a new service, simply called "MEGA" and accessible under the New Zealand domain mega.co.nz. T3n.de reportsthat the new service differs from other offers such as Dropbox or Skydrive in one point in particular: all data is encrypted during upload, the corresponding key remains on the user's computer. If servers are lost (stolen, confiscated), the data on them remain encrypted, and the operator cannot view them either. This last point is important, because only then it can be argued that Kim Dotcom's company has no knowledge of whether illegal files are being exchanged or not.

Even if only the uploader has the appropriate key, he can still pass on files with simple links containing an access code. So the person who calls up such a link does not need a key. It can be assumed that if MEGA.co.nz is successful, pages will soon appear that collect such links and thus help the holiday videos to reach a larger audience. The start seems to have been quite successful already: according to Kim Dotcom, more than half a million users have already registered after only a few hours, and the servers are difficult to reach even at the moment. At the moment MEGA is still running as beta, the provider recommends Chrome as the ideal browser.
What remains exciting is how the music and film industry will react and whether users will accept the offer at all. The question remains as to why one should entrust someone facing proceedings for copyright infringement with their data - but perhaps the user group addressed does not care. If you want to keep control over your own data, you should have a owncloud installation think.