WLAN in airplanes still leads a niche existence, only a few airlines offer this service. Norwegian already offers this service for all passengers on many connections.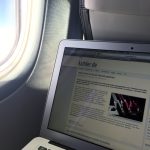 While the Lufthansa and AirBerlin To introduce WiFi during the flight or only offer it on certain routes, the "cheap" airline offers Norwegian already does so on many routes (with the exception of transatlantic routes). WLAN will be activated after the start and can then be used without further ado. If you log on to the WLAN, you will first receive the data of the current flight and an offer of free media.
The speed of the connection is sufficient for "relaxed" surfing - new speed records are not broken, but to read the news, post a Facebook update or otherwise pass the time it is easily enough. If you want, you can of course also be productive and edit emails, for example.

What has to be considered: unlike WLAN, the snacks and drinks are charged at Norwegian. But contrary to WLAN, they can be easily bought at the airport and taken on board. Personally, I can also abstain from the anyway not extensive snack on short distances - I would rather choose WLAN, specially as by this way, the flight attendants are also relieved a little, as they do not have to offer something to each guest.
It remains to be hoped that WLAN will continue to establish itself in the airplane and that other airlines will include it directly in their ticket prices.