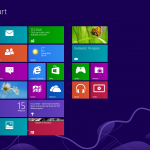 Microsoft is finished with Windows 8 and has provided a 90-day preview for developers and interested customers (with Live ID). After this period, you cannot update to the retail version, you must back up your data. Microsoft itself recommends the installation in a virtual environment, I use VirtualBox 4.1.18, which Windows 8 already offers for selection. Unfortunately there is a limitation: although the VirtualBox Additions are installed, the monitor is not recognized correctly. So the resolution is limited to 1.400×1.050 pixels, but the integration like automatic catching of the mouse pointer works smoothly - and what is most exciting: the "StyleUI" (previously: Metro) works.
With Windows 8, Microsoft is turning the user interface upside down. About all changes Golem.de has a Overview here my personal opinion about it should be in the foreground. After the installation the user is first welcomed by a tile overview. Here the most important tools (or app) are visible at a glance, there is even a tile for the desktop. If this is activated, you will get a halfway familiar desktop - only without the start button (at this point you will get Internet Explorer 10 instead).
Windows 8 UI - trapped in tiles?
As mentioned, Windows 8 starts into the StyleUI, which was previously called "Metro". This can also not be deactivated via the interface, so that if you want to use the desktop, first press the appropriate tile. Also, pressing the Windows key does not start the search as usual, but brings the user back to the tile surface. Microsoft also seems to have deleted the comfortable starting of applications via the search function. There are two ways to configure settings: the classic "Control Panel", and "Settings", which can be used to configure the StyleUI mode. Unfortunately, it is also not possible to force the regular desktop to be started.
Preliminary assessment
Of course there hasn't been enough time to give a really comprehensive assessment of the new Windows version. It's a great pity that Microsoft apparently doesn't give the customer the choice which interface to use. After all, Windows 8 leaves no major problems in my virtual machine, with two assigned CPU cores and 4,096 megabytes of RAM and 25 GB of memory. The speed will of course run faster natively on the hardware, the first system will probably be my ASUS Zenbook UX32VD R4002V with Windows 8 where the upgrade costs a manageable 15 euros. On my other system I will stay with Windows 7 for the time being and set up Windows 8 as dual boot at most. On my Macbook Air it would probably also work well, at least if the touchpad is well supported.
If you want to get a picture of Windows 8 for yourself, you can download both the 32 and 64 bit versions from Microsoft: Windows 8 Evaluation Download (Windows Live ID required).
Windows 8 Screenshots