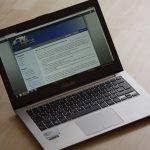 I'm currently looking for an Ultrabook - small (13.3″ display), light (under 1.5kg) and fast (so at least Core i5) are the requirements. Then a matt display as well as a resolution above the usual 1.366×768. Everything sounds like the Asus UX32 or UX32Vd, which should bring a dedicated Nvidia graphics chip.
The emphasis is on "shall". The new generation of Asus Ultrabooks first appeared on the web in March 2012, but now it is said that the devices will be presented at Computex in June and will then be available in the foreseeable future. Sure, Ivy Bridge from Intel has also been a bit late - now we can only hope that the devices will be available quickly after the official introduction, otherwise Apple's MacBook Air is still an alternative that meets most requirements.
After all, the data known so far for the Asus UX32Vd (if it's correct) is really quite impressive - especially the matt display would be refreshing after most notebook manufacturers are of the opinion that ultra-portable devices are used under defined light conditions most of the time. Although every display is not usable in direct sunlight, reflective displays (malicious tongues say: make-up mirror) disqualify themselves completely in this discipline.
If the Asus UX32 will be available and delivered at some point, there will be a short test, respectively a hands-on review of the ultrabook Asus UX32 here in the blog.