The Android "Lollipop" update for the Moto G (2013) has already been rolled out worldwide for some time, now it seems to be available in Germany as well.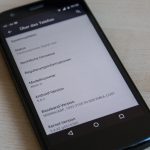 Motorola relies directly on Android 5.0.2 and thus spares the customers the first - mostly faulty - versions. With "Lollipop"The new basic look in "Material Design" is also applied to the first generation Moto G. Since Motorola largely does without the optical adjustment and does not use a substantially changed launcher, you get Android 5.0 largely vanilla.

Android 5.0 relies completely on ART, the new Android runtime which was still optional in Android 4.4 This is supposed to achieve a four times better performance. Also new: a user administration including guest mode, so that several users can use a device without viewing each other's data - a sensible innovation especially for tablets, as smartphones are usually used exclusively by one person.
In addition, there are smaller improvements like new quicksettings, which are now easier to reach, as well as some other new features. All in all, it is good that users of cheap Android devices can also enjoy the latest Android versions.
At Amazon you can get the 1st generation Moto G (with 4,5 inch screen) for 80,- Euro used. The Moto G 2014 is available from 180,- Euro can also be ordered from Amazon.