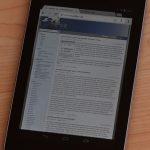 Google has released a new Android version: 4.1.2 brings mainly smaller improvements and slight performance advantages. Also problems with WLAN connections are said to have been fixed. What you will notice most: the home screen can now be used in landscape format - until now this was only possible on the Nexus 7 with additional tools.
Google brings Android 4.1.2 first for the Nexus 7 - the distribution of the update has already started, it has not yet arrived on all devices. Google has also released the source code, it can be downloaded from the Open source side of the Android project can be downloaded. When the update will be released for other Nexus devices is still open, only the US edition of the Motorola Xoom will be updated.
Further rumors also say that a 32 gigabyte version of the Nexus 7 will be released at the same price as the previous 16 GB version. Google would thus probably annoy the buyers of the 16 GB version and indirectly admit that a complete outsourcing of data to the cloud is not a solution for all customers. There are also rumours about a UMTS version of the cheap Android tablet.