Even after my now successful Change from o² to congstarI am affected by the problem of the missing provider display. In forums like telefon-treff.de there has been talk for some time about the fact that Congstar SIM cards do not issue an operator ID - at least not when using an iPhone. This does not affect the functionality, only the corrected SIM card should be sent. My SIM, which arrived last week (week 27), still seems to have the problem.
But a first speed test at my home has shown useful results: 75ms ping, 4.8 MBit/s download and 1.33 MBit/s upload are enough to call mobile websites without major delays. If congstar now sends reliable SIM cards with provider display, I will also request a new SIM from the support - which will hopefully output "congstar", even if the missing provider doesn't have a functional disadvantage, it's nicer if everything works as it should. And: in my case the reception is better than with Vodafone (fyve).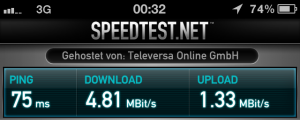 Update: Even if it was not expected, but it would have been possible; But even with iOS 6 the appropriate information is missing to display the Congstar operator logo. So there is nothing new on the operator logo front at Congstar yet.
Update 2: I did another speed test to verify the first results. Also in Munich (near the Einstein shopping center) Congstar (or T-Mobile) delivers good speed, even a bit more than at an old location in Nuremberg. Here is the Congstar speed test result: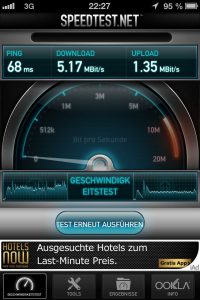 Update 3: Nano-SIM with operator logo
The Nano-SIM, which I used for my iPhone 5 from Congstar now also provides an operator logo. I haven't tried if this can be replaced by something else (instructions are available on the net) - but that's next on the plan, if there is a nice T-Mobile logo instead of the Congstar lettering.
Update 4: new speed test
I did a speed test again - under good conditions you simply notice that Congstar throttles down at 7.2 Mbit/s, the T-Mobile network delivers quite good data rates.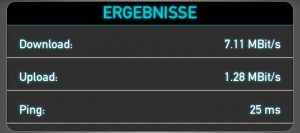 Zuletzt aktualisiert am 2. October 2023 um 13:03 . Wir weisen darauf hin, dass sich hier angezeigte Preise inzwischen geändert haben können. Alle Angaben ohne Gewähr.